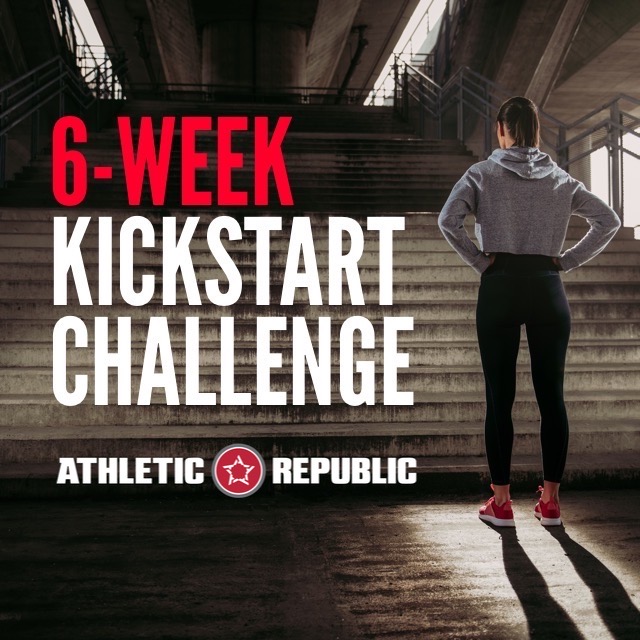 6-Weeks of UNLIMITED TRAINING
ONLY $129
Program starts - Sunday, March 1st
FREE for current AR-Fit Members*
SIGN-UP TODAY!
* Excludes session packages, drop-in or month-to-month contracts. Can not be combined with any other offer.
Imagine waking up a few months from now, looking in the mirror and seeing yourself looking back amazed at how your body has transformed.
What Can You Actually Get Done in 6-Weeks?
It's not to lose as much weight as possible as quickly as possible. Instead, the point of a 6-week challenge is to focus on creating quality habits and accomplishing small goals. When you can do this consistently and sustainably in those six weeks, you build up something really powerful within you: MOMENTUM
When you can start to string successful, SUSTAINABLE weeks together to complete a 6-week challenge, you build momentum. When you string together multiple 6-week challenges, your life shifts from "building new habits" to "this is my new normal."
When you put your faith in the process and do this consistently, you fundamentally change your life. Not just for short periods of time, but permanently.
So yes, you can lose weight in six weeks, but it might not be as much if you took six weeks to starve yourself and work out at a ridiculous pace. That's okay! That's expected! Yes, you can build muscle and strength, but perhaps not as quickly as if you worked out seven days a week and pumped yourself full of supplements. That's okay! That's not what we're going for.
We're not interested in "get fit quick", we're interested in "get healthy permanently."
And that's how you're going to build your challenge. That's how you're going to get the results that have eluded you all of these years. And that's how you're going to level up your life. In a matter of weeks, you'll start noticing changes in your body and how your clothes fit. Even more than just the obvious physical changes, you will notice a boost in your energy levels and a feeling of pride about how you look, but more importantly...how you feel!
---
What you should expect:
A decrease in your body fat percentage
Increase in lean muscle tissue (making your body look more sculpted)
Increased metabolism (to help you burn more fat all day long)
Increased sense of well-being (it sure feels great to be on top of life)
Improved sleep patterns
Less stress*
An abundance of energy (keep you going all day long)
Lower bad and increased good cholesterol levels*
Decreased risk of heart disease (live much longer overall)*
And most important of all...increased self-confidence
...and the multitude of other benefits that come from being in great shape and feeling good about yourself!
* Based on regular exercise and a healthy diet. We make no claims otherwise.
---
It's about fitness, not weight loss.
Reaching your fitness goals and maintaining them permanently will take a significant amount of effort and dedication on your part. The master trainers and coaches at Athletic Republic are here to keep you motivated and accountable. We will provide resources like nutritional tips and recipies through our private Facebook group, along with daily check-ins to keep you progressing in your fitness journey.
---
General requirements
There are not many rules, but in order to be succesful through this challenge, we require a few things from you:
There are 42 challenge days: Your goal is to train for 30 days (5x per week)*
You must complete at least THREE(3) physical challenges
You must complete at least THREE(3) nutritional challenges
You must complete at least THREE(3) wellness challenges
Give us a LIKE on Facebook and you will be added to our PRIVATE Challenge group
Leave us a Google, Facebook or Yelp review. 5 stars, of course.
* 5 days of activity per week. Train 5 days at Athletic Republic or split your time between your Peleton, Soul Cycle, Orange Theory, Walks/Runs, Yoga, or anything that makes you happy! The goal is to keep you moving. NOTE: Rest is just as important as activity. Make sure to work in your rest days!!!
Be honest and track your progress. Sheets will be provided and securly kept at Athletic Republic. The ultimate goal is to have fun, exercise and kickstart your wellness journey.
---
What do I get for $129?
There are not many rules, but in order to be succesful through this fitness challenge, we require a few things from you:
UNLIMITED AR-Fit training classes for 6-weeks ($95 savings)
Personalized small-group training classes
Progress sheet to track your challenge goals
Prizes for challenge completion
Pre-and Post-testing - BMI, Weight, Measurements (upon request)
Bragging rights to your family and friends
It's even more fun when you train with a partner, so pass this challenge to your fiends.
It's FREE to current AR-Fit members* with active contracts, so share the love!
* Excludes session packages or month-to-month contracts. Can not be combined with any other offer.
More than just a scale
Weight, body composition and circumference measurements are only a few of the many tools used to gather evidence of your progress. They should not, however, be thought of as the only way to measure success. There are several methods for measuring your progress. Our approach uses simple strategies to help keep you focused but at the same time – avoiding frustration.
---
Clothing
Find evidence by taking a trip to your very own closet. Try on a pair of jeans before and after the fitness challenge. Make sure to choose a pair that you aspire to fit into again. Take note on the fit at the waist, butt and thighs. In 6-weeks, your body will transform by reducing the fat with lean muscle.
---
Body measurements
Other numerical signs of progress. Watch the measurements of your waist, arms, neck and hips change. If you are not losing pounds, are losing inches all over your body as your figure slims down and tones up.

Other numerical indicators include a reduction of blood pressure or cholesterol, BMI, and body fat percentage.
---
Energy levels
Monitor how eating supportively and regular exercise affects your energy levels. Not only will you be able to work out for longer intervals of time, but daily movements and chores will also become easier. Whether cutting the grass or simply walking up the stairs, these behaviors will come effortlessly.
---
Emotions
Most importantly, be conscious of how you feel emotionally. You work hard to reach your goals. Hopefully, the hard work will come with a boost in self-esteem, confidence, and happiness.

Are you beginning to feel more comfortable in your own body? What do you hear others saying to you? What are you saying to yourself?
---
Scale weight...if you must
Lastly, we have scale weight. See how low on the scale of importance this is? While it is a factor in seeing results it's definitely not as important as the top 4 factors in how we measure results.

Scale weight is based on a combination of many things like water, food, bowel movements and that time of the month. While it can show us one aspect of seeing results it definitely is not the main factor.
---
PHYSICAL CHALLENGE
Pick 3 or more and transform into a bad-ass.
Attend 24 classes - 4x per week to maximize potential
Complete 1000 push-ups - Quality over quantity
Complete 1000 burpees - Embrace the suck
Complete 1500 squats – Squats are life
Complete 1500 ball slams - Any variation will do
Take the stairs - Avoid the escalators and elevators
Complete a 5k race - Find one, register and run!
Cycle 150 miles - Easy work for Peleton owners
Complete PERFECT push-ups - 20 for Women / 40 for Men
Complete PERFECT pull-ups - 5 for Women / 10 for Men
NUTRITIONAL CHALLENGE
Pick 3 or more see how you can kickstart your metabolism.
Reduce the caffeine – Make 2 cups into 1 for the challenge
Make smart carb choices – Know the differences
Add 1 serving of vegetables daily – Target high fiber veggies
Add 1 serving of fruit daily – Target high vitamin sources
Add 1 large glass of water daily – Part of the recovery process
No processed meats – Includes cold-cuts and canned meats
Remove 1 indulgence – Cheese, bread, soda, ice cream (you get the point)
Pack your lunch – Control your caloric intake
No night time munchies – No food intake after 8pm
Home food, not fast food – Prepare all your meals at home
WELLNESS CHALLENGE
Pick 3 or more see how fitness goes beyond the physical.
Sleep 7 hours a night – Sweet recovery dreams
Put away $3 per day – Buy yourself a gift when you're done
Hug and kiss your kids daily – No kids? Hug your pet
Start a hobby – Make the time to unwind
Random act of kindness each day – Feed the soul
Start and finish a book – Feed the mind
Create a family night – Whatever you choose, do it together
Unplug and unwind – No electronics 1 hour before bedtime
Floss like a boss – Dental health = mental health
Laugh early and often – Find humor in your day and share it
SIGN-UP TODAY!