Athletic Republic, Football University (FBU) and Morris County Football Academy have teamed up to present the New Jersey FBU Combine for Middle School football players, grades 6-8. The 9-week preparation, combine and skills training will give your athlete the competitive edge as they enter football spring practices and camp season. There is no off-season with Athletic Republic...don't miss yours.
PROVEN RESULTS
Looking to add a star to your Rivals.com ranking or standing out in the crowd of college football prospects? Then improve your combine performance. At Athletic Republic, we'll help you improve your football speed for the 40-yard dash, add quickness to your pro-agility and develop the explosive power measured in the vertical jump. We'll also teach you the techniques that can improve your combine results and on-field performance. Along the way we'll improve your conditioning and stamina, so you'll be ready to start the fourth quarter with the same strength you had in the first. To help you improve your scores in the Combine Exam, we're sharing a few of our scoring secrets for running the 40-yard fast, perfecting the pro-agility, and adding height to your vertical jump.
COMBINE PREPARATION (WEEKS 1-4)
4-weeks of on-site speed, agility, mobility and drill preparation work at Athletic Republic. Training 1x per week, you will be instructed by our expert football trainers to get you ready for combine day. Learn and apply techniques that shave seconds off your 40 time, add inches to your vertical jump or improve your overall endurance and conditioning. Sessions start Saturday, March 24th and conclude the week before the Combine.

Starting Saturday, March 24th at Athletic Republic (12:00pm - 1:00pm)
FBU COMBINE (WEEK 5)
You will participate in the same combine tracked by all regional camp, including the short shuttle, 40-yard dash, vertical jump and standing broad jump. Our partner, 360 Approach will be onsite to provide athletes with taping and stretching services.

Saturday, April 21st at Pope John (12:00pm - 3:00pm)
POSITIONAL SKILLS TRAINING (WEEKS 6-9)
Whether you are a QB looking for the edge on your footwork and improved arm strength, or a DL/OL looking to build your power base, improve your hand-fighting or develop that quick first step, the expert trainers at Athletic Republic will break down your techniques and show you drills to improve your positional skills.

Starting Saturday, April 28th at Athletic Republic (Time TBD)
Reasons to attend a football combine
The main reason to attend a football combine is to get measurable information about your skills. Verified statistics are important for your player profile, so getting timed in the 40-yard dash or shuttle run, or having your vertical jump measured at a combine can be beneficial.

Combines can provide good, measurable information about your athletic ability, which can help you see how you measure up against other football recruits. Knowing what you need to improve on can help you when competing against other athletes for football scholarships.
OUR PARTNERS AND SPONSORS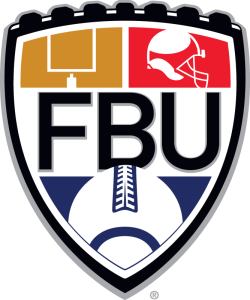 AVAILABLE PACKAGES
PLATINUM PACKAGE
Combine Preparation, FBU Combine, and Positional Skills Training
$399
GOLD PACKAGE - A
Combine Preparation and FBU Combine
or
GOLD PACKAGE - B
FBU Combine and Positional Skills Training
$225
FBU COMBINE
Participation and tracking for Saturday, April 21st ONLY
$49